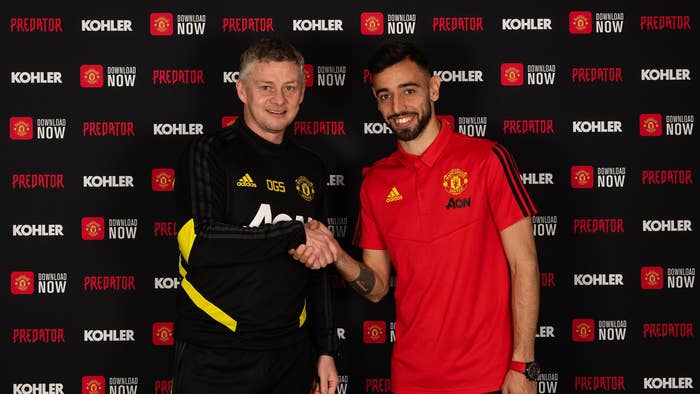 Ole Gunnar Solskjaer surprised Bruno Fernandes at a joint media conference by announcing he would captain Manchester United against PSG.
United will be without skipper Harry Maguire for the Champions League clash after he sustained a knock in Saturday's victory over Newcastle United.
Fernandes has been a talisman for the Red Devils since arriving from Sporting CP in January, and he will now get the honour of wearing the armband in Paris.
Asked about Maguire's absence, Solskjaer said: "We hope Harry will be fit for the weekend, we're not sure, but we hope so. The captain sits next to me. Bruno will captain the team tomorrow."
The Portugal international responded: "I was not expecting this. I know the same time as you.
"Of course, for me, it's an honour I will be captain for my team-mates and being captain of Manchester United is important for me.
read also:Fernandes inspires late Man Utd win against Newcastle
"I think the captain is everybody and everyone needs to help; everyone needs to be a leader. The leadership is different in every player.
"Tomorrow will not be about me, it's about the team. Leading the team is every day in the training ground, every training, every game, and I think everyone is doing their own job to lead the team in the way they think is the best."
On Fernandes' impact, Solskjaer added: "Bruno has come in and had a positive impact. All the stats show that and his performances have been receiving real great praise as well.
"He's come in and, he's not changed the team, but sparked something in the team. Hopefully we have sparked something in his career as well that helps him become a better player.
"That was a change point in our season last season. We hope for more to come."
The post Man Utd boss Solskjaer shocks Fernandes with captaincy call appeared first on Sporting Life.