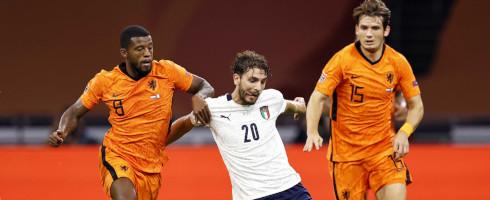 Netherlands midfielder, Marten de Roon, has admitted Italy 'deserved to win' their Nations League clash in Amsterdam. 'They played like a great team.'
Nicolò Barella got the only goal just before half-time, peeling away from defenders for a rare header.
"Italy did very well in the first half and I think they deserved to win," confessed De Roon to RAI Sport.
"They always managed to have a man free in the first half, especially down their left. We did better after the break, but still struggled."
read also:Mancini: 'Italy have room for improvements'
Holland had won their opening Nations League game, beating Poland 1-0, but Roberto Mancini's side are now top of the Nations League group with four points.
"Italy played like a great team and I think they ought to continue like this. We're trying to follow a similar path, playing as a team more than individuals. I congratulate the Azzurri."
The post De Roon: 'Italy deserved to win' appeared first on Sporting Life.