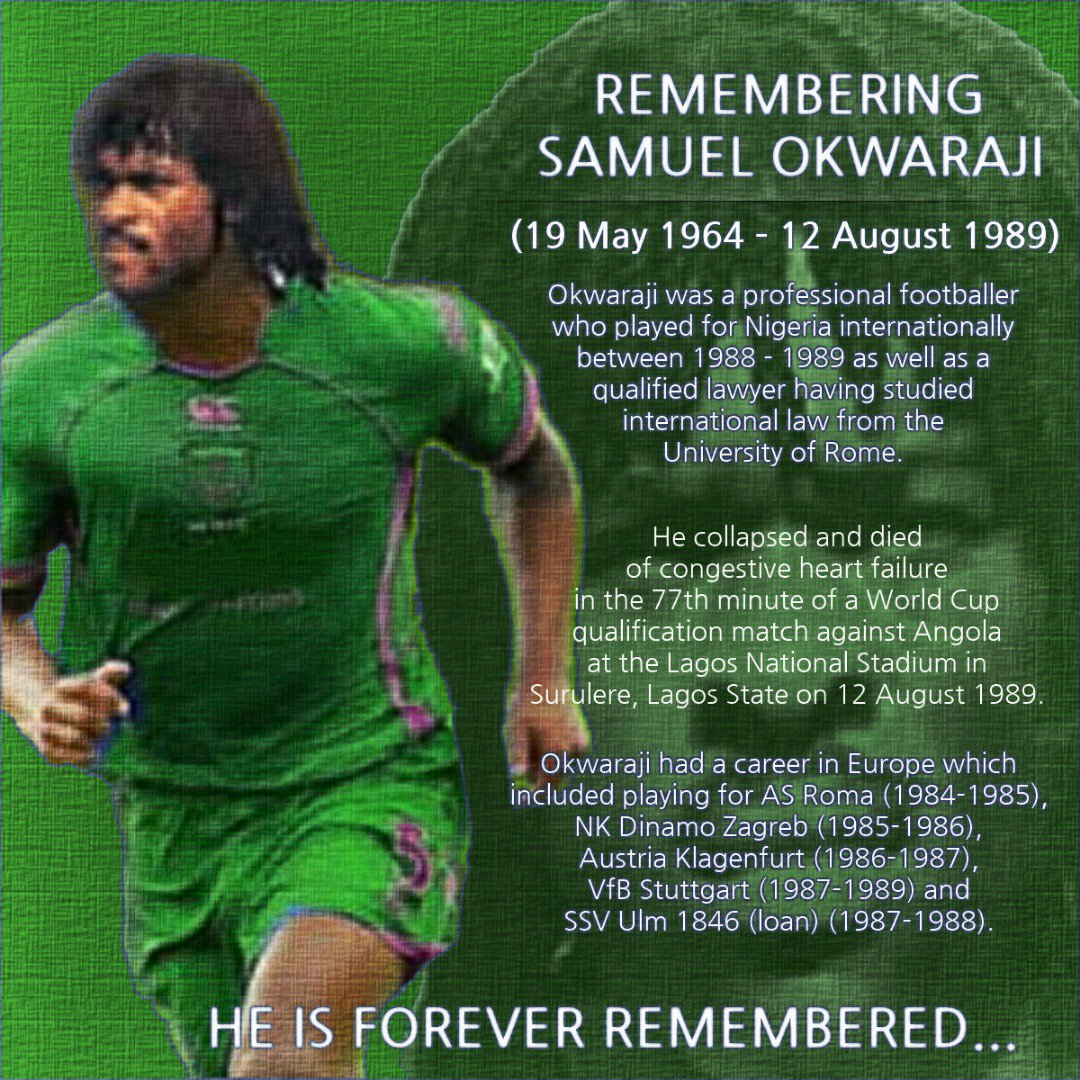 Nigeria Football Federation President, Amaju Pinnick has assured that he will pursue the implementation of the proposal made to retire the Jersey number six in honour of Samuel Sochukwuma Okwaraji whose death on August 12, 1989 in Lagos clocked 31 years yesterday.
Okwaraji who donned jersey number six for the then Green Eagles collapsed under his own weight in the 77th minute of the 1990 World Cup Qualifier against Angola at the National Stadium, Lagos.
Proposals have been made by previous administration of the NFF to rest the Jersey number so as to immortalise the Imo born midfielder but due to improper record keeping this has not seen light of day.
Pinnick in an interview he granted with a radio station affirmed that another proposal to retire the Jersey number worn by Okwaraji was made at the beginning of the year and that he is sending the proposal to his executive committee for onward implementation.
"Coincidentally I was right there at the National Stadium, Lagos on that fatefully day it was a game against Angola. The match was tensed and my late brother, Patrick Okpomo was the Secretary General of the then NFA so I was privileged to be there," Pinnick said.
"I recalled when he was taken out of the stadium. Nobody thought he would die as a result of that. When we came out after the game I was looking for my brother but he was busy.
"He later whispered to me that he (Samuel Okwaraji) had passed on. It was a tragic moment for us. Okwaraji displayed utmost patriotism because he loved the country so much. It was just so sad and pathetic that he had to leave when he did.
"We are all mortals and from mortality we will end up in immortality. Nobody will leave forever. That event till tomorrow is still very fresh because I was right there. Somebody made that proposal to us earlier in the year about retiring that shirt and I think it will not be too much for us to do that.
"I think I will now forward the proposal to my executive committee for us to implement the retiring of the shirt because it has been said already. For us to see how to implement it. We will do something about it.
Pinnick further stressed that the NFF will continue its resolve to continue supporting the family of past heroes as it did with the monthly token approved for the mothers of Samuel Okwaraji and Rashidi Yekini.
He added that the football house through the NFF Foundation is working out modalities that will ensure that the game legends in the male and female are assisted to alleviate their post retirement struggles.
Pinnick continued: "We are going to continue with it and I must also commend the Sports Minister, Sunday Dare. We are not going to just stop there, we will take it to the next level because we are looking at the NFF Foundation.
"We are now sourcing for funds to ensure we also take care of our legends in both male and female who have played football for Nigeria. Some of are currently sick and others with some other form of ailments. At the time they put in so much effort for Nigeria maybe that was the time those ailments started because they were quite devoted.
read also: Google celebrates posthumous birthday of late Samuel Okwaraji in Style
"Our directives to the Foundation is that legends who want to be trained as pundits should be trained while those that are quite old should have monthly honourarium provided for them."
The post NFF to retire late Okwaraji's Jersey number appeared first on Sporting Life.