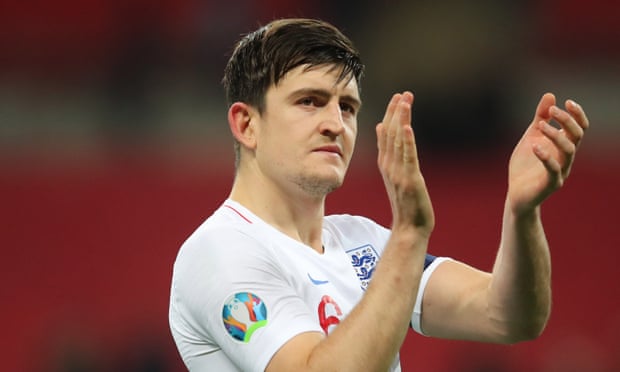 Gareth Southgate late Tuesday axed Manchester United star Harry Maguire from the England squad after he was found guilty of assaulting and trying to bribe Greek police – as the prosecutor blasted the footballer's 'pack of lies'.
The England manager has acted swiftly to ditch the £85 million defender who was given a 21-month suspended sentence after he was convicted of all charges after the brawl in Mykonos.
Southgate, who previously named Maguire in his squad despite his legal woes, said in a statement this evening: 'In light of this evening's developments, I can confirm I have withdrawn Harry Maguire from the England squad for the matches against Iceland and Denmark.
'As I said earlier today, I reserved the right to review the situation. Having spoken to Manchester United and the player, I have made this decision in the best interests of all parties and with consideration of the impact on our preparations for next week.'
Maguire, 27, was found guilty of assaulting police, verbal abuse, and attempted bribery by a court on the island of Syros, in Greece.
The decision by the Three Lions boss – who previously warned Maguire could be dropped 'if facts or information changes' – means the star will not play in next month's UEFA Nations League fixtures against Iceland and Denmark.
The £85million defender – who was not present in court – has spoken out on the ruling this afternoon and is protesting his innocence, with plans to appeal the verdict handed down by the Greek courts.
He said: 'Following the hearing today, I have instructed my legal team with immediate effect to inform the courts we will be appealing.
'I remain strong and confident regarding our innocence in this matter – if anything myself, family and friends are the victims.'
Ioannis Paradissis, lawyer for two of the six policemen involved in the case told MailOnline that Maguire is a 'disgrace' and has 'invented a pack of lies and has not had the decency to apologise.'
Mr Paradissis said: 'He has insulted our police officers and he and his friends left three of them injured. They had to be taken to hospital and were brutally beaten by Maguire, his brother Joe and their friend.
'Maguire and his friends then invented a story about Albanians attacking his sister. I've never heard such rubbish. This was a shameful attempt to cover up their disgusting behaviour and an insult to Albanians and the Greek police.
Read Also: Messi asks Barcelona to terminate contract
'Maguire is a role model, he should hang his head in shame and return to Greece to apologise.'
Maguire's brother Joe who plays for non-league team Ilkeston Town, was also found guilty of assault, attacking police and attempted bribery while a third man, 29-year-old Christopher Sharman, was guilty of two assault charges and another of verbal abuse.
All three had denied the charges based on the evidence of four policemen.
The post Maguire out of England squad after being found guilty of assault, bribery appeared first on Sporting Life.