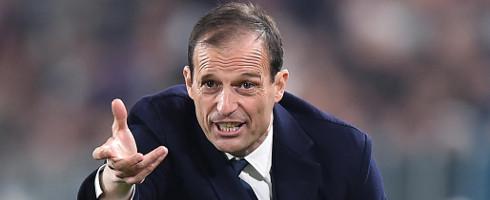 Max Allegri is reportedly the favourite to take over if Antonio Conte and Inter do part company next week, as is increasingly likely.
Conte gave more comments after the 3-2 Europa League Final defeat to Sevilla that suggest his time at the club is up, just one year into the experience.
"Now we have to get back to Milan, will take two or three days off, then with cool heads will meet. It's only right that we analyse the entire season, look at everything in a very calm way, and try to plan the future of Inter, whether it's with or without me," he told Sky Sport Italia.
"I don't know. We worked hard, it was a very tough season in many ways, so it's only right to take a little rest, face the situations and make the decision that is best for Inter. There is absolutely no bitterness. There might be different views on things, but we'll evaluate everything.
"It has been difficult and we'll figure things out. It has been wonderful for me to be the coach of Inter, I thank the owners who allowed me to go through this great experience."
It's not entirely an unfamiliar situation, as Allegri replaced Conte two days into pre-season training at Juventus in the 2014-15 season and went on to win five consecutive Serie A titles.
He was hired by Beppe Marotta, who is now the general manager at Inter.
Conte dropped a few hints as to what caused his tension with Inter, and it could well be the way the club handled a threatening letter containing a bullet.
"Something happened, there's no point beating around the bush. We have to see whether everyone is prepared to not have another year like this for what happened with me," the coach told Sky Sport Italia this evening after the 3-2 Europa League Final defeat to Sevilla.
"There are a few situations I will evaluate, it's only right the President evaluates it too, I'll tell the directors my views. I will always be thankful to those who gave me the chance to experience this adventure.
"Beppe Marotta, Piero Ausilio, they were all convinced I should come here and I will always thank them. It was a very tough year, there are limits to everything and if situations involve my private life, that is no longer acceptable.
"I have a family and I have to understand if football is the priority or my family. Because if some situations end up affecting my family, that is no longer enough for me. Everything has its limits, I have to see where my limits are."
This, along with his complaint after the Atalanta game at leaks within the club that went back to the Luciano Spalletti era, seems to point towards a specific incident.
It happened in November, when newspaper reports emerged that Conte had received an anonymous letter containing a bullet, with threats aimed at him, his family and his staff.
read also:Conte threatens to quit Inter after Europa League final loss
Conte's wife, Elisabetta Muscarello, wrote on Facebook that the story was "absolute rubbish! We're in bad shape in Italy, when people can just wake up, write anything they want and not think about the consequences!"
It turns out, the letter had been sent to the Inter training ground and Conte had evidently tried to keep it a secret from his family, so as not to worry them.
The leak about the threat, therefore, came from within the club and Conte never forgave them for that lack of discretion.
The post Inter crisis: Allegri tipped to take-over from Conte appeared first on Sporting Life.